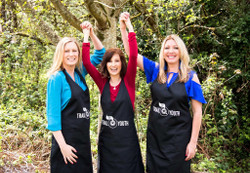 Hometown Celebrities
Festival Grand Marshals, Tonya Guinn, Kristen Zuray, Wendy Laxton (Trail Youth Team)
Join NBECA and the Festival at Mt Si to celebrate The Trail Youth's work as the 2018 Grand Parade Grand Marshall. Their work to remove negative labels and restore value and purpose into the lives of the teenagers is worthy of celebration. We honor The Trail Youth's work going where the teens are, no matter the weather, offering coffee and donuts. We celebrate building bridges and ensuring all youth feel their worth to our Valley communities.
The Trail Youth began five years ago serving coffee and donuts to young people at their hang outs on local trails.
Why coffee and donuts? Kristen Zuray and Tonya Guinn began connecting with local youth and offering support. They were alarmed at the many challenges teens face today and felt offering positive support could make a positive impact. Now, five years later, The Trail Youth Coffee Home in downtown North Bend expands that positive impact to make a difference in the lives of more teens.
Now a non-profit, the Train Youth Coffee Home continues to deepen those early conversations through mentorship, leadership development, and connections to resources. The public is invited to support the effort through buying a cup of coffee, which gifts a cup of coffee to a young person. Or, purchase a bag of the Trail Youth's Coffee Home Blend which makes a greater impact and affirmation that "You are Valued.".
Youth hours are from 2:00 pm to 5:00 pm every Tuesday through Friday. Teens are invited to learn barista skills through volunteering, join the music ensemble, and to display art and creative efforts. Youth are invited to serve on the Youth Board. All services are free to teens and the public is invited to support the effort through buying a cup of coffee, which gifts a cup of coffee to a youth.
Learn more about how you can support the worth efforts of The Trail Youth at
www.trailyouth.com
, where you can email Kristen Zuray for more information.
Latest News
The Chili Cookoff is coming! Visit the Chili Cookoff page to register!
Chili Cookoff Info & Registration
Check out the full weekend schedule and events!
Weekend Schedule
The Festival at Mount Si is looking for volunteers! Please see our
volunteer page
for more information.
We've added ATMs for your convenience all weekend long!