17th Annual Festival at Mt Si What's Cookin' Chili Cook-off
Sunday, Aug. 11, 2019
8:30am-2:15pm
$35 Registration fee.
Registration reserves your space and will be refunded following the Chili Cook Off if contestant participates in the event.
Must Register by July 31st
Read the Chili Cook-off
Info Form - pdf
.
Fill out the Chili Cook-off
Registration Form - pdf
.
THE 411!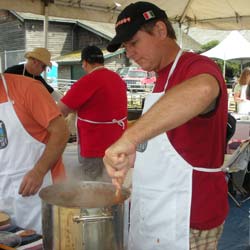 All preparation of ingredients and cooking is on site only (

NOTHING

can be pre-prepped or preportioned i.e. chopped onions, meat cutting, spices, special sauce unless commercially canned or bottled i.e. catsup, tomato sauce -- think Heinz).
No wild game may be used.
Pre soaking beans must be done on site or canned beans can be used.
No electrical outlets will be available, except in kitchen for a limited time.
Meet at Chili Cook-off tent for set-up at 8am on Sunday. You may begin cooking no earlier than 8:30am and no later than 10am.
YOU BRING (Contestants)
A great sense of humor and the willingness to have a terrific time
All chili ingredients specific to your recipe including spices, meat, beans, onion etc.
Contestants must provide cooking and storage equipment including cooler(s) w/ice, stoves, propane burners, cooking thermometer, pots, towels, cooking utensils; spoons, knives cutting boards etc.
You must prepare a minimum of 8 quarts of chili to qualify.
Food handler permits are NOT required by contestants.
WE BRING (Festival at Mt. Si)
A great "sense" of organization.... and humor and The PRIZE MONEY!
Event set-up and management including tables, tenting, signage, hand washing area, ballots, etc.
Paper and plastic products for distributing to the Judges and Public.
Food handlers and King County Health Dept. permits.
PARKING & SET-UP
Special parking permits will be provided for all contestants-contact Ben Cockman
Volunteers will be available with carts to assist with your set-up
Latest News
The Chili Cookoff is coming! Visit the Chili Cookoff page to register!
Chili Cookoff Info & Registration
Check out the full weekend schedule and events!
Weekend Schedule
The Festival at Mount Si is looking for volunteers! Please see our
volunteer page
for more information.
We've added ATMs for your convenience all weekend long!