3rd Annual "Unofficial" Wife Carrying Competition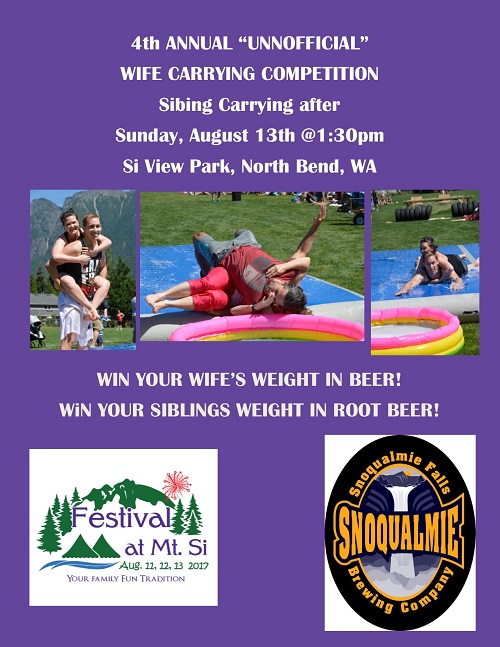 Sponsored by
The Growler Station, North Bend
.
Carry your wife the length of the course faster than anyone else and you'll win her weight in beer!
When: Sunday, August 13th 1:30pm
Location: Si View Park, North Bend
Pre-registration at Information Booth 1 hour prior.
The "Mostly Official" Rules
1. Team mates are not required to be married or siblings.
2. Men (or Women): The wife to be carried may be your own, the neighbor's or you may have found her farther afield, however, she must be 21 years of age or older. Sibling Carrying, under 21 only.
3. The official track length is 253.5 meters (not sure if ours will be that long). There will be 2 dry obstacles and possibly 1 wet one.
4. The minimum weight of the wife to be carried is 108 pounds. If she weights less than 108, the wife will wear the additional weight up to 108 pounds total weight. Additional weight must be either sand or water secured in a container or bag. We will figure out how to be the most fair for sibling weights too.
5. The only equipment allowed is a (support) belt worn by the carrier.
6. If the contestant drops his wife/sibling, he has to re-lift her to his back or in his arms and continue to carry her throughout the course.
7. The contestants run the race 2 at a time, so each heat is a contest in itself. This is a timed event, the fastest overall time wins.
8. Each contestant takes care of his/her safety and, if deemed necessary, insurance.
9. The best outfit/costume will also be awarded a special prize.
10. Helmets are not required, but are strongly recommended.
11. You must sign a waiver to participate and commit to having fun.
Latest News
The Chili Cookoff is coming! Visit the Chili Cookoff page to register!
Chili Cookoff Info & Registration
Check out the full weekend schedule and events!
Weekend Schedule
The Festival at Mount Si is looking for volunteers! Please see our
volunteer page
for more information.
We've added ATMs for your convenience all weekend long!